Want to have a quick access to all the latest Mac gaming news? Bookmark this page and keep an eye on the list below. This page will let me share with you more news faster.
It also lets you upvote your favorite stories and submit your own. If you want to stay up-to-date with all the latest news, Twitter and Facebook will do the trick:
The Humble Bundle store is giving away Shadow Warrior for FREE!
And time is running out too!
The Humble Bundle store is giving away Shadow Warrior: Special Edition for Free. And by free, I mean completely free, forever. The game works on Mac, Linux and Windows.
Shadow Warrior is a bold reimagining of the classic 3D Realms' shooter from independent developer Flying Wild Hog (Hard Reset) starring the legendary and quick-witted warrior Lo Wang. Combine the brute force of overwhelming firepower with the elegant precision of a katana to annihilate the merciless armies of the shadow realm in an exhilarating and visually stunning transformation of the classic first-person shooter.
At the time of this writing, you have one day and three hours left. You can download it over at Humble Bundle.
Did you know these many good Mac games were released last month?
As always, our New Mac Games page keeps growing each month. Quietly, all the popular new games were added, creating a surprisingly long list of games to try.
PS: By popular, I mean games with at least 300 Steam reviews. If I don't set a limit, that would mean tens of games per month, including (sadly) lots of shovelware.
The month of June was no different, bringing brand-new indies, AAA games, and even exciting expansions. These are some of the highlights, but for the complete list of games released these past months, head over to the official list:
Micro Machines World Series: From the creators of Grid and F1 games, comes Micro Machines World Series, an unique take on the racing genre. Micro Machines World Series for Mac combines the madness of racing micro machines with epic team battle strategies. And all taking place in interactive backdrops of an everyday home.
CRYPTARK: Cryptark for Mac is a 2D roguelike shooter that challenges you with boarding and neutralizing procedurally generated alien starships. As you neutralize enemy ships, you earn income that can be used to purchase improved equipment and weapons to tackle even more dangerous targets. But you'll need to be careful, aliens will defend themselves with cyborg monstrosities, robotics, and security systems.
HITMAN: Hitman is the latest stealth action game from IO Interactive. As Agent 47, you perform contract hits on high-profile targets in exotic locations around the world. This game comes in episodic form and features seven episodes.
Final Fantasy XIV: Stormblood: Stormblood is the latest Expansion of the critically-acclaimed MMO Final Fantasy XIV. In Stormblood, you get to journey to the East to explore vast, new lands and play as two new jobs─red mage and samurai. Stormblood for Mac also features hundreds of new quests as the Warrior of Light, a level cap increase, changes to the battle system and more.
Warhammer 40,000: Armageddon: Armageddon is a hex-based, turn-based strategy game set in the Warhammer 40,000 universe. In Armageddon for Mac, you lead the Imperial forces of the Steel Legion and Space Marines as they defend the planet against the Ork invasion. The game features over 30 scenarios and powerful modding options to keep you busy for hours.
Kindergarten: Kindergarten for Mac is an original adventure indie that takes place in a deranged school. The teachers are out trying to get rids of their students as the janitor cleans up the blood left behind. Kids get strange brain implants and one of your friends is missing. It will be up to you to figure out what is happening before it's too late.
Cold Waters: Inspired by the 1988 classic "Red Storm Rising", Cold Waters for Mac puts you in command of a nuclear submarine at a time when Cold War becomes WWIII. This unique wargame features real-time naval combat, over 40 classes of ships and submarines, a dynamic Campaign, authentic Soviet combat tactics, and more. Enough to recreate a deep warfare simulation.
Warhammer 40,000: Dawn of War 3: Dawn of War 3 for Mac features a terrific campaign and challenging multiplayer mode, giving you command of the heavy-hitting Space Marines, the savage Orks, and the technologically-sophisticated Eldar. The game also features Mac and Linux cross-platform multiplayer.
The month June 2017 also saw the release of critically acclaimed indies such as Passpartout: The Starving Artist, Blitzkrieg 3, Everspace and Hover: Revolt of the Gamers. For the complete list with all the details (descriptions, release dates, links and more), head over to New Mac games: Releases.
Jul 12, 2017 - macgamerhq.com -

135
This was long overdue and I apologize for not making it happen before...
In March 2016, I released my Top 100 Mac games.
It was by far the most difficult and longest post I had ever written: 14,000 words long, filters, sorting options, images, performance requirements, etc. It was worth it as many of you emailed me back saying it was great. But then I dropped the ball and failed to keep it updated...
Well, it was about time to change that. Our Best 100 Mac games guide is now updated with 18 new games, much more variety, more diversity, and fancy sorting and filtering options.
StarCraft: Remastered is coming to Mac this summer
You can go ahead and mark August 14, 2017, on your calendar. That's the day when Blizzard will release the remastered version of the venerable StarCraft, the fast-paced RTS that stole hours of my teenage years and was source of much frustration (I never got any good in spite of said hours playing it).
Teased a few months ago, StarCraft: Remastered is a "full graphical upgrade" of the 1998 original and its expansion. The remastered version will feature high-definition support up to 4K resolution, higher fidelity music and sound, new matchmaking and leaderboards, cloud saves, and more.
Plus, as is often possible with remasters, you will be able to go from the remastered visuals to the original visuals "with the click of a button."
If you're a true fan and can't wait to get your hands on it, Blizzard is accepting pre-orders and is offering a few incentives too. According to a press release:
All players who pre-purchase before August 14 will receive three unique building skins for use in StarCraft: Remastered—the Char Hive, the Korhal Command Center, and the Aiur Nexus. Additionally, those who purchase StarCraft: Remastered will receive digital bonuses in StarCraftII, including the Alexei Stukov co-op commander and three unique portraits that celebrate StarCraft: Remastered.
StarCraft: Remastered will be available for Mac and Windows PC on August 14, 2017 for $14.99, a "reasonable" price if you ask me. You can pre-order the game at Blizzard's official website.
Via Polygon.
Micro Machines World Series is coming to Mac this Friday!
And there you have it, the Mac platform is about to get another racing game. Although this time the realism of F1 2016 and Grid Autosport is put aside to make room for some plain old fun.
From the game's Steam description:
The legend is back! Micro Machines World Series combines the thrilling madness of racing micro vehicles with epic team battle strategies, set against the extraordinary interactive backdrops of the everyday home! Grab your NERF blaster, try to avoid the jam, and take on the world!
The game will be released on Windows, Linux and Mac this Friday June 30. You'll be able to grab the game on Steam.
Via GamingonLinux.
A deeper look into Metal 2: expect VR support, eGPU support and better graphics
Andrew Cunningham from ArsTechnica just published a very interesting article covering some of the most technical features of the new macOS High Sierra. It discusses several things and it goes into some quite technical details, but if you simply want to know more about what Metal 2, Apple's graphics API, has in stores, this is a great read.
First of all, to put things into perspective compared to other platforms:
While both macOS and iOS still nominally support open, third-party APIs like OpenGL and OpenCL, it's clear that the company sees Metal as the way forward for graphics and GPU compute on its platforms. Apple's OpenGL support in macOS and iOS hasn't changed at all in years, and there are absolutely no signs that Apple plans to support Vulkan (when asked, Apple wouldn't comment except to further praise Metal's capabilities).
Regarding the actual improvements for most users:
Metal 2 is a technology for developers, so a lot of its improvements will be of interest primarily to developers. For instance, there's now a GPU performance counter in Xcode's collection of Instruments, and Apple says the frame debugger can be anywhere from 10 to 100 times faster depending on what you're looking at.

But the API will enable some improvements for end users, too. People with newer GPUs should expect to benefit from some performance improvements, not just in games but in macOS itself; Apple says the entire WindowServer is now using Metal, which should improve the fluidity and consistency of transitions and animations within macOS.
But the biggest new features that made the most noise: VR and eGPU support:
Metal 2 is also the go-to API for supporting VR on macOS, something Apple is pushing in a big way with its newer iMacs and its native support for external Thunderbolt 3 GPU enclosures (with Metal 2, developers will also be able to distinguish between external and internal GPUs, both because Thunderbolt 3 is slower than an internal PCI Express interface and may need to be treated differently by some apps and because apps will need to be able to failover gracefully if an external GPU is removed).
One less fun information though, some will be left behind:
Apple says that every device that supports Metal should support at least some of Metal 2's new features, but the implication there is that some older GPUs won't be able to do everything the newer ones can do.
And finally, perhaps another clue pointing to Apple's masterplan to unify iOS and macOS?
Another key feature for Metal 2 is full cross-platform compatibility between macOS, iOS, and tvOS—games and apps made for one of the platforms should have access to all the same API features on all platforms.
A little technical but still full of interesting stuff even for more casual users and gamers. Can't wait to see what Metal 2 will truly be able to deliver when High Sierra is released.
Jun 18, 2017 - macgamerhq.com -

311
E3 2017 just wrapped up a few days ago, and while most think the show only covers consoles and Windows, this year was full of Mac (and Linux) games too.
As much as Sony and Microsoft want to convince us E3 is all about the hardware, E3 is, and will always be, about the games. And when it comes to games to be released on Mac, E3 2017 was the best one so far.
These 21 games were the most exciting games for Mac from E3 2017, confirming this year's top games keep getting better and better.
Jun 15, 2017 - macgamerhq.com -

56
We knew the new Hitman was coming to Mac. The leaks were there and Feral Interactive eventually acknowledge it.
We also knew Metal was, again, the reason why Linux users were playing it while we weren't.
That will all change soon as Feral just revealed Hitman's Mac version is coming on June 20.
This latest adventure, which promises to be one of the finest on Mac this year, puts you back in the shoes of Agent 47:
As Agent 47, perform contract hits on high-profile targets in exotic locations around the world. Infiltrate and explore intricately layered locations brimming with secrets, weapons, disguises and, of course, targets to eliminate.
Originally released in episodes (with seven in total), Mac gamers will get Hitman: The Complete First Season.
WWDC 2017: Everything a Mac gamer needs to know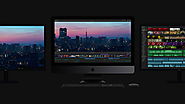 Apple's 2017 WWDC keynote was packet with game-changing news for Mac gamers. iOS 11 for iPad probably stole the show (I gave up on iPads a long time ago but iOS 11 may change my mind), but MacOS High Sierra promises to be full of amazing features.
These are the most important ones for Mac gaming:
Apple introduces Metal 2
Apple announced the next update for Metal, it's graphics API. Named Metal 2, it should be 10 times better at draw call throughput than the original and promises a faster frame rate debugger. This should all help Macs run games better.
But the real highlights are that it will allow Macs to finally support VR and eGPUs:
Metal 2 will also work with external graphics, making it possible to have external GPU boxes for Mac OS computers. Metal 2 will also help power virtual reality on Mac. The Unity and Unreal engines are coming to Mac, which studios can use to make VR games. Valve's SteamVR is also coming to High Sierra.
Macs will finally support VR
Indeed, Apple is making a big VR push and it managed to get all the big names on board: Valve, Unity and Unreal:
Leading VR companies are joining Apple to drive VR innovation on the Mac with features coming later this year — Valve is optimizing their SteamVR platform for macOS and enabling connection of the HTC Vive headset, while Unity and Epic are bringing their VR development tools to macOS.
For the longest time Macs were laughed at because they weren't powerful enough to support it. Oculus infamously dropped support for the Mac just before shipping last year, claiming Macs weren't capable enough.
Now Apple is working hard to change that and their VR push is quite frankly impressive. According to Apple, VR support is made possible thanks to better performance squeezed out of Metal 2, and above all, new Mac hardware. According to a blog post on Vive's official website:
Through a newly announced external GPU, developers and content creators will be able to use a beta of SteamVR and the new MacOS, High Sierra, to access the creative power of Vive with their MacBooks.
Which brings us to the new hardware.
The iMac Pro
We all knew something big was coming. Recently Apple admitted it made a mistake with the current Mac Pro and that it was working on an overhauled Mac Pro to set things right. They also claimed other products would help fill the gap soon. Enter the new iMac Pro.
The iMac Pro will look a lot like current 27-inch iMacs, but it will have crazy powerful specs for even the most demanding applications. The downside? It will have a crazy price too: $5000 for the base model.
Here are the specs:
27-inch 5K display with 500 nits brightness and P3 color
8-Core Intel Xeon CPU, configurable up to 18-Core
32GB of 2666MHz DDR4 ECC RAM, configurable up to 128GB
1TB PCIe SSD, configurable up to 4TB SSD
AMD Radeon Pro Vega 56 GPU with 8GB of HBM2, configurable to Vega 64, 16GB
Front 1080p FaceTime HD camera
Built-in stereo speakers, with 4 microphones, 3.5mm headphone jack
10GbE Ethernet
Four Thunderbolt 3 (USB-C) ports
Four USB 3.0 ports
802.11ac wireless with Bluetooth 4.2
SDXC card slot with UHS-II
To be fair, PC Gamer went ahead and built a similarly specced Windows machine to see how overpriced the new iMac Pro was. The result? The iMac Pro is not overpriced. In fact, it can be considered reasonably priced as their Windows build was $4686.71. That's only $313 less than a sleek machine made of premium materials with great warranty and customer service.
That said, their Windows machine is upgradable when the iMac Pro won't. I don't see myself spending $5000 on a machine that can't be upgraded and will therefore become obsolete sooner than later.
Support for external graphics cards
Luckily, Apple is offering another solution for gamers, VR enthusiasts and other users who may need powerful graphics: External Graphics cards. This is already possible on macOS Sierra, but it's not official and requires a lot of tinkering.
With macOS High Sierra, Apple will officially support eGPUs that will let you buy a powerful graphics card, put it in a dedicated case, and plug it to a thunderbolt 3 supported Mac (MacBook Pro or iMac) to give it enough power to run the latest games and VR apps.
Apple is already selling its own external graphics enclosure to developers:
The External Graphics Development Kit includes everything you need to start optimizing advanced VR and 3D apps on external graphics processors with macOS High Sierra.
Apple's External Graphics Development Kit comes with a Sonnet external GPU chassis with Thunderbolt 3 and 350W power supply, an AMD Radeon RX 580 8GB graphics card, a Belkin USB-C to 4-port USB-A hub, and a promo code for $100 towards the purchase of a HTC Vive VR headset.
Sadly, external GPU support likely won't arrive for consumers until spring 2018.
Latest iMacs have upgradable CPU and RAM
A teardown of the new 4K iMac reveals that the new machine is the most upgrade-friendly iMac Apple has released in years.
But before this gets you as excited as I was when I read the headlines, swapping out the components won't be easy. At all. The CPU is buried underneath a lot of other components, including a glued-down glass screen. I don't think Apple made this changes deliberately so we can all start upgrading our new iMacs, but at the end of the day, if you really want to upgrade your iMac's CPU, it won't next to impossible anymore.
Apple File System will make your computer faster
Apple went ahead and decided to completely replace the current file system which has been the standard for years. Not many companies would bother with changing a proven standard, but Apple did and the new file system should make your computer faster.
This won't have a huge impact on games, but a faster computer overall will certainly have indirect positive effects, such as improving load times.
Apple replaces the entire iMac, MacBook and MacBook Pro lineup
While new MacBook Pros got me really mad too (I purchased my 2016 MacBook Pro in November and the new 2017 MacBook Pros are faster and $200 cheaper), it's great for everyone else. The new iMacs and MacBook Pros have all Kaby Lake processors that should improve performance across the board.
Discrete AMD graphics cards are also coming to every 4K iMac, making them powerful enough for the HTC Vive VR headset. There's also additional Thunderbolt 3 ports.
The 4K 21-inch iMac and entry 13-inch MacBook Pro got a $200 price cut too.
And that's about it. Lot to cover, but that makes sense as 2017's WWDC was one of the most packed conferences in years.
Jun 09, 2017 - macgamerhq.com -

100
Right on the heels of Mafia 3, another AAA game hits MacOS.
Feral Interactive just released the real-time strategy game, Warhammer 4,000: Dawn of War 3. The game appeared for both Mac and Linux on Steam and the Feral Store yesterday, June 8, 2017.
These are excellent news. First, because it's the first Dawn of War game since 2009. Second, because the game is released on Mac less than two months later than the Windows version. Some games take years to come to the Mac. If they come at all…
Anything worthwhile missing here? Go ahead and submit the tip. It won't appear automatically, but I will approve all relevant news at least once every 2 days.