Want to have a quick access to all the latest Mac gaming news? Bookmark this page and keep an eye on the list below. This page will let me share with you more news faster.
It also lets you upvote your favorite stories and submit your own. If you want to stay up-to-date with all the latest news, Twitter and Facebook will do the trick:
Mar 21, 2017 - macgamerhq.com -

32
This update was long overdue, but we now have confirmation that Mafia 3's Mac version is coming soon.
According to Aspyr Media, the game is scheduled for 2017.
I first reported Mafia 3 was coming to consoles and Windows in June 2016, but little else was known at the time.
Besides an out of the record confirmation from 2K at last year's Gamescom event, it was still unknown when the Mac version of the game would be released and who would be in charge of the port.
But everything is clear now.
Mar 17, 2017 - macgamerhq.com -

58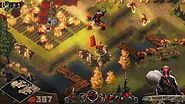 And the list of hot upcoming Mac games keeps growing, this time with the help of three very exciting indie games.
All three games are scheduled for later this year and all three have confirmed Mac versions:
Tooth and Tail: From the creators of Monaco: What's Yours Is Mine comes Tooth and Tail, a arcadey real-time strategy game. Set in a world of animal revolution, Tooth and Tail boils down to a few buttons and intense eight-minute matches.
Gorogoa: Gorogoa is a beautiful hand-drawn game that takes place within a puzzle. The game is about solving puzzles by stacking and connecting panels, which may sound simple, but end result is stunning.
Chasm: Chasm is a pixelated adventure game featuring huge procedurally-generated areas. Help our hero, Daltyn, by gaining new abilities and equipment, evade dangerous traps, and defeat hordes of deadly enemies.
I would like to give Kevin, a Mac Gamer HQ reader, a big thank you for spending so much time looking for exciting new Indies coming to the Mac (and sharing the best with me). Keep them coming!
"Is that all? Aren't there more indies coming to the Mac?" I hear you asking. Well, of course there are. In fact, there are tenths of new games released every week, including for Mac. The thing is, I try my best to filter them to only include the most noteworthy games. Else, the list would become huge and it would become nearly impossible for you to separate the few good games from the many mediocre ones.
But then the problem becomes: How to separate the attention worthy games from the rest? It's easy for released games, you can just look at the reviews to get an idea of a game's quality. But what about the upcoming games?
This is a serious dilemma I face every week and I would love to hear your thoughts on it.
The Witness is finally available for Mac
Mar 15, 2017 - youtube.com -

76
After more than a year waiting for it, The Witness is finally available on the Mac App Store.
Not familiar with The Witness? Well, this open world puzzle game comes from Jonathan Blow, the man behind the now indie classic Braid:
The Witness is a single-player game in an open world with dozens of locations to explore and over 500 puzzles. This game respects you as an intelligent player and it treats your time as precious. There's no filler; each of those puzzles brings its own new idea into the mix. So, this is a game full of ideas.
To play it, you'll need macOS 10.11.6 or later with 4GB of RAM and 5GB available storage space.
The Mac version of the game should be released on Steam soon (allowing you to get it for free if you already own the Windows version), but in the meantime, you can download it from the Mac App Store.
Mar 12, 2017 - macgamerhq.com -

97
We are still waiting on Total War: Warhammer and Mafia 3, but that doesn't mean Mac gaming has been quiet. In fact, last week I spent a few hours verifying and adding lots of games to our Upcoming Mac games list.
If you want more details and a complete overview of all the games expected to come to Mac, head over to the New Mac games page. But if you want a short summary:
Day of Infamy: Day of Infamy was already on the list, but now that it has a definitive release date, it was updated. Set in WWII and featuring tactical close-quarters battles, Day of Infamy is a highly intense teamwork-rewarding experience.
Beat Cop: Beat Cop is a new adventure game from 11bit studios and Pixel Crow.
Thimbleweed Park: From the creators of Monkey Island and Maniac Mansion comes this new adventure game.
Graveyard Keeper: From the creators of Punch Club comes Graveyard Keeper, a retro-looking medieval cemetery simulator.
Unexplored: Unexplored is an accessible yet challenging roguelite action rpg, featuring a fantastic level generator.
Mar 11, 2017 - macgamerhq.com -

114
"War, huh, what is it good for?" – Edwin Star, War from the album War and Peace
Well… apparently, it's good for good times. War games are all over the map. So, to honor our ever-present source of joy and soul-crushing doom, Mac Gamer HQ presents you with a four-star general overview of the best war games for Mac.
As always, we're going for different styles and genres, as well as different price points and system requirements. We aim to help you discover great new Mac games and present different options, guaranteeing that at least one of these will be the perfect war game for you.
Mar 11, 2017 - macgamerhq.com -

35
This is yet another important milestone for Mac gaming:
There are over 4,500 Mac games on Steam. 4,547 to be precise.
This is particularly impressive when you consider how often macOS is dismissed as a gaming platform.
But the numbers speak for themselves: Mac gaming counts 4,500 games and close to 4 million active players (3,17% of 125 Million active users according to Valve) on Steam alone. And don't forget about all the games that are not part of Steam, such as EA's and
And don't forget about all the games that are not part of Steam, such as EA's and Blizzard's.
Oculus Rift Won't Work On Macs Anytime Soon, Says Cofounder
More sad news coming from Oculus...
Oculus announced Mac support a long time ago, back when they were still making prototypes and wanted to make everyone happy. But once they figured out they didn't need macOS customers, they changed their mind.
Maybe you thought things would eventually change, but according to Nate Mitchell, Oculus cofounder, don't expect Mac support in the near future.
Mitchell revealed in an interview with TechCrunch that the company has no such plans. He also said:
It's something near and dear to my heart, we're just not there quite yet. We do want to do OS X support for Rift, it's not something that's currently on the roadmap for — I can even say — the next six months.
To be clear, Mitchell isn't saying Mac support will never come. In fact, they would like to, but as it is not a priority, don't expect anything anytime soon.
Mar 02, 2017 - macgamerhq.com -

266
I am very proud to share with you something I've been working on for hours these last few weeks.
You already know my Mac games calendar. Well, it was good, and it certainly was the best calendar with Mac games out there. But now that I realize how important this is, I completely revamped and improved it.
This new version includes:
A new, modern design
Descriptions for each game that make sense and are useful
The 30 latest Mac games released and over 50 upcoming Mac games
Remember Fortnite, the first game used to promote Metal? It's still coming
How about that. Fortnite, the co-op survival game from Epic, is still alive and well. At least according to Epic co-founder, Tim Sweeny, who confirmed it at this week's Game Developers Conference.
And according to him, Fortnite will be playable this year and follow an iterative process similar to Paragon.
But by playable, he means an open beta within 12 months. Some say it could be beginning of 2018, but when considering that Epic initially promised a beta in the fall of 2015, it could be later.
I was extremely excited to hear about this game during Apple's 2015 WWDC keynote. It was meant to be great and it was supposed to be one of the first games to use Apple's Metal API to take Mac gaming to the next level. One year and a half later, little has been seen...
Hope this game turns as good as Epic claims it will be.
Via Polygon.
Feb 20, 2017 - macgamerhq.com -

279
You might well ask "What could possibly be better than playing an amazing game on your own?"
Short answer: Playing that amazing game with others online!
Not only is online gaming a place to really test your mettle, but teaming up with other people can be a more interactive and enjoyable experience.
Mac gamers have many options to choose from when it comes to great online multiplayer games. Whether you're after open-world, FPS, racing, or RPG titles, you don't have to go far to find something that will keep you entertained for countless hours. We want to showcase some epic games, so get ready for some of the best multiplayer games for Mac.
Anything worthwhile missing here? Go ahead and submit the tip. It won't appear automatically, but I will approve all relevant news at least once every 2 days.