Want to have a quick access to all the latest Mac gaming news? Bookmark this page and keep an eye on the list below. This page will let me share with you more news faster.
It also lets you upvote your favorite stories and submit your own. If you want to stay up-to-date with all the latest news, Twitter and Facebook will do the trick:
1
Don't miss the latest Humble Bundle: Great games cheaper than you can imagine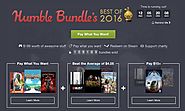 Great news, a new Humble Bundle has arrived and it includes many great games available on Mac!
I know I often share deals with you, but I can honestly say that the Humble Bundles are the best deals you can find on games.
I hope I got your attention now. Called Humble Bundle's: Best of 2016, this bundle includes some terrific Mac games.
If you decide to pay lower than the average price so far (because you can literally pay whatever you want), you get:
Else Heart. Brake
Victor Vram (a great hack & slash RPG we've discussed before)
Evoland 2
If you pay more than the average price (now at $4.05), you get these additional games:
Rust
Shadowrun: Hong Kong (one of our Top 100 Mac games)
And if you pay $10, you also get:
Homeworld Remastered Collection (one of the best strategy games on Mac).
So there you have them. The clock is ticking and I personally recommend that you go for it and help charity along the way 😉
2
Ark: Survival Evolved now lets you catch Pokemon!
And an already excellent game just became cooler....
Ark: Survival Evolved, one of the most popular Early Access games on Steam, has a new mod that lets you catch Pokemon! Well, the mod itself is not new but it was recently hit with a Digital Millennium Copyright Act (DMCA) claim and was no longer available. Luckily, the claim is now lifted and the mod can once again be downloaded.
According to Mystic Academy, the mod's developer:
Instead of gathering resources, you will gather credits by killing Pokémon. Once you have gained credits you can use the credits in the [in-game] Poké terminal.
With a five stars rating from more than 600 users, this is one of the Ark's most popular add-ons.
About Ark: Survival Evolved
In case you first hear about Ark: Survival Evolved, let me tell you out of the gate that this is a killer game. In Ark, you wake up in a deserted island full of dinosaurs that can be killed or tamed. You get to gather resources and build pretty much the most crazy fortress you can imagine.
The Mac port, however, was a complete mess when I first played it in 2015. But I gave it another go in July 2016 and I can confirm the Mac version is much more stable and better optimised. It can still be improved a lot (after all, I could barely play it on Medium settings and 720p on a top of the line Retina iMac), but that never stopped from playing it day and night for 2 weeks.
The Mac version should continue to be improved as the game gets closer to its final release.
3
Don't miss the Humble Store's Winter sale!
And there you thought your wallet would be safe until the next Steam sale? 😉
The Humble Store, one of my favorite online stores, is having a huge sale that is definitely worth your attention. The sale includes loads of games, including popular Mac games such as Life is Strange (75% off!) and the Metro Redux Bundle (80% off!!).
I went head and filtered the games to only show those that support the Mac. You can check the complete list here.
Also, keep in mind that other than having a cool online store and offering cheap prices, the Humble Store is mostly famous because it gives part of your money to charity. You still pay the best prices out there while giving a little to charity. Neat right?
You can check their Winter Sale over here.
Jan 10, 2017 - macgamerhq.com -

73
This comes way too late but… I wish you a great new year! Hope 2017 will rock for you, especially with lots of new Mac games to play! 😉
I have to say, 2016 was a great year for Mac Gamer HQ and myself, so I can only hope that 2017 will be just as good.
2016 was a record year in terms of traffic and content. Our most popular resources ever were published in 2016: 100 Best Mac Games, the release of our Count It app and our brand-new benchmark page are just some examples. Traffic wise, Mac Gamer HQ received 120,748 visits in December and 1,271,799 total visits In 2016! These are impressive figures that I still find hard to believe.
This proves that there are thousands of people playing games on their Macs out there. My aim for 2017 is to reach even more of them.
Speaking of which, I already have a few things planned for 2017 that should make Mac Gamer HQ an even better Mac gaming resource.
5
Pixel adventure game Owlboy is coming to Mac
Owlboy was perhaps one of the most surprising releases last year.
No one saw it coming, but once it was released, everybody loved it. Some praised the refreshing gameplay, while others the fantastic soundtrack and the gorgeous pixel art. But most simply loved the combination of all of the above, making this indie game something especial. After all, this game was 10 years in the making.
We still have no definitive release date, but according to the developer, the game will come first to Mac and Linux. And later to consoles:
Yes, we are planning to bring the game to consoles! No specific dates yet, but Mac/Linux will probably come first.
Owlboy was built using the XNA platform, which is probably why Ethan Lee is behind the Mac and Linux ports (as leaked by Ethan himself).
Eager to give this one a go? I know I am!
Dec 30, 2016 - macgamerhq.com -

381
Mac gaming isn't perfect, but it has one advantage that Windows gaming lacks:
A limited number of models.
Why is that a good thing? Because it means we can easily compare how different games work on different Macs. Want to know if your Mac can play Civilization 6? Ask someone who has the same (or similar) Mac model.
Don't know others who are into gaming on a Mac? This database is here to help.
With our Count It app, you can already record and share your Mac's benchmarks. But we are taking things to the next level. This page will serve as the place to gather all results, making it easy for you to see if your Mac can run that game you want so bad.
Share your results and let's build the ultimate database.
7
Don't miss Feral's Christmas party sale!
Christmas is here and in case you didn't find something nice to offer yourself, this sale should give you some ideas!
The games included cover a whole bunch of different genres and should suit all gaming preferences. Also, you"ll notice some of these games are among the best there is on Mac right now (I"m looking at you Tomb Raider):
The Christmas spirit rings out on the Mac App Store, where dozens of games have merrily dropped in price!

You'll get a sentimental feeling from gems like Mini Ninjas (50% off), Black & White 2 (70% off), DiRT 3 Complete Edition (50% off) and LEGO: Star Wars - The Complete Saga (50% off). And for those of you game for a darker Saturnalia, the likes of Tomb Raider (60% off) and Thief: Master Thief Edition (70% off) will paradoxically lighten your holiday.
Some of these deals are up to 70% off! You do not want to miss it!
For all the deals and links to the Mac App Store, head over to Feral's official site.
8
Disappointing, Kingdom Come: Deliverance may not come to Mac anymore....
I'm afraid I have some bad news. Kingdom Come: Deliverance, the medieval RPG I called one of the most anticipated games this year, may no longer come to the Mac at all.
Although their Kickstarter campaign proudly confirmed Mac and Linux support, the developer is now second guessing that choice. From their latest status update on Kickstarter:
To guarantee a high quality throughout the entire game, we made a tough decision to cancel some elements to the game, including the following: Support for Mac and Linux platforms at launch.
It seems like they have a resources issue and putting the Mac and Linux versions on hold is the only solution they have. I can understand that but I can't help feel burned again with developers making promises they can't keep.
I would like to see a developer so lightly cancel or postpone a PS4 or Xbox One version. Unfortunately Mac and Linux aren't that important to them.
You can read more about it on their Kickstarter page.
Also, thanks to GamingOnLinux for the heads up.
Dec 15, 2016 - macgamerhq.com -

239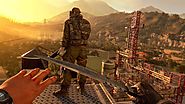 It's official: Dying Light is now available on Mac.
The news comes straight from developer Techland, who has confirmed that the Mac version of the zombie-killing game is now available on Steam.
Plus, this is the Enhanced Edition we are talking about. Called Dying Light: The Following – Enhanced Edition, this special edition takes the whole game to the next level. It includes a massive expansion pack, a year's worth of DLC, improved visuals, major gameplay enhancements, and more.
10
Cities: Skylines - Natural Disasters DLC now available.
Dec 13, 2016 - youtube.com -

48
In case you missed it, the best city-building simulator keeps getting better. Just a few days ago Cities: Skylines introduced disasters, making the already great gameplay even more fun.
From the game's Steam page:
Natural Disasters features a catalog of catastrophes to challenge mayor-players everywhere, including planning with early warning systems and emergency routes, devastating and destructive disaster effects, and caring for the populace as they struggle to rebuild. The expansion will also update Cities: Skylines with a new scenario editor and gameplay mode, allowing players to finally win – or lose – the game on their own terms.
If this is the first time you hear about this game and you happen to enjoy simulation and / or strategy games, you should really consider getting it.
You can find it on Steam.
Anything worthwhile missing here? Go ahead and submit the tip. It won't appear automatically, but I will approve all relevant news at least once every 2 days.