Latest Mac gaming news
Latest Mac gaming news
1
Tether is a great looking horror FPS and I'm happy to report that the Mac version is now confirmed!
October 27, 2016
Tether is a great looking Unreal Engine game coming to Mac, Windows and Linux next year. Mark Gregory, member of Freesphere Entertainment and an old Mac Gamer HQ friend, sent me the latest trailer. And I got to say: it looks great.
Tense atmosphere, check. Great voice actors, check. Good graphics, check.
Are you interested in this game and would like to support it? Head over to its Steam Greenlight page and vote for it.
About Tether
Earth is dying after the collapse of several continents throughout the world following the destruction of the Moon - as natural disasters sweep the planet, the newly formed United Environmental Federation (UEF) accelerate plans to terraform the nearest possible habitable planet, Mars.
You play as Lesleigh Hayes - a Biological Research Assistant for the UEF - on her first deep space voyage to Mars. As catastrophic events unfold on the UEF Sonne, Lesleigh is forced to survive the psychological horrors of isolation in deep space.
Can she live with the consequences of her choices? How will these affect her children? Is this how motherhood should be?
Tether is expected to release in 2017 on Windows, Mac and Linux with possible support for VR headsets at launch.
October 25, 2016
Impressive. Barely 3 days since the Windows release and Civilization 6 is already available on Mac.
That must be some kind of record and it's exciting to see that one of the hottest games this year is already out on Mac.
You can download Civilization 6's Mac version on Steam for $60 and Aspyr plans to release the Mac App Store version "soon".
Civ 6 is the first major entry in the series since 2010. At the time, Civ 5 was a revolution, completely changing combat mechanics and proving that Civ games could still be perfected. Civ 5 was a huge success, which is why Firaxis already warns us that Civ 6 won't see drastic changes to the formula.
October 24, 2016
According to the survey we did a few ago, there's something many of you want more of:
More. Free. Stuff.
I can't say I'm surprised, but I have to admit giveaways have become around here. Well, I heard you loud and clear.
Which is why I bring you today this Warhammer 40,000: Dawn of War 2 giveaway!
With the help of Feral Interactive, the studio in charge of both Mac and Linux versions, we're giving away 3 Steam copies of the game.
All you need to do to enter the giveaway here.
4
It was about time: New Macs will be announced on October 27
October 20, 2016
It was about goddamn time. Apple will finally reveal new Mac on October 27.
The keynote invitations are out and it makes it clear: It's finally the Mac's turn. The keynote will take place on Wednesday at 10AM PT at Apple HQ and most expect the reveal of the redesigned MacBook Pro.
Early spy shots have revealed so far:
A thinner design
4 USB-C ports
The new OLED touch bar at the top of the keyboard
Built-in Touch ID
Given how long it has been since Apple update it's Mac lineup, everything is possible. They could also announce upgrades to the MacBook Air, iMac or the now three year old "new" Mac Pro.
Will Apple finally catch up?
I do hope they will bring the big guns, as the Mac has never felt so abandoned by Apple. I get it, iOS makes more money, but that's not a good enough reason to drop the ball like this. Macs used to be high-performance machines for Pro users. Today, they can't even keep up with the latest processors... Some fear that Apple will slowly push us to the iPad Pro and slowly kill the Mac.
I hope Apple will prove them wrong next week.
Via Cult of Mac.
October 20, 2016
Great news: Mad Max is finally available on Mac starting today, October 20, 2016.
The announcement comes straight from Feral Interactive, the studio in charge of Mad Max for Mac and Linux.
Mad Max is an action-adventure game based on the Mad Max films and comes from the creators of the Just Cause series. The game takes place in a post-apocalyptic wasteland and asks you to seek revenge on a gang of raiders. It also features car combat, exploration, and upgrades.
6
Tyranny, Obsidian's latest RPG, is coming to Mac soon
October 19, 2016
So glad to hear that Obsidian's next game is almost here. But can you blame me when their previous work was the stellar Pillars of Eternity?
Anyway, Tyranny is coming to Mac, Linux, and Windows on November 10, 2016 and I can't wait.
In case this is the first time you hear about this exciting RPG, this is a good summary:
The grand war between good and evil is over – and the forces of evil have won. The Overlord's armies dominate the face of the world, and its denizens must find their new roles within the war-torn realm. Players will roam the world as an officer of the Evil forces, empowered to act as both judge and executioner.
The preorders are now open, but as always, I advice against it. Too many Mac versions of games have disappeared at the last minute...
Don't forget to keep an eye on the official Mac gaming calendar to stay up-to-date.
Via Public Access Gaming.
October 11, 2016
Do you remember the times when you could only find Mac games at Apple Stores? It was generally on the bottom rack, where the boxes would just sit there and gather dust.
Nowadays, you can download Mac games from nearly every digital store out there. If it offers Windows games, it probably offers Mac games too. Hell, you can even find *free *games when you know where to look.
Unfortunately, many stores are not clear on whether they are selling the Mac version of a game, the Windows version, or both.
To save you some time and prevent you from accidentally buying a game that won't work on your Mac (been there myself), I'll share with you the best places to download games for Mac.
8
Oculus Rift has new minimum requirements. I guess Mac support can be resumed right?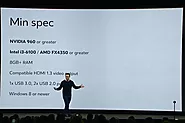 October 10, 2016
A few months ago, Oculus founder Palmer Luckey famously said that Oculus Rift would support Macs "when Apple makes a good computer". That was hard to digest, but given the extremely high system requirements the Oculus had at the time, it was hard to argue.
He went on to say: "It just boils down to the fact that Apple doesn't prioritize high-end GPUs. You can buy a $6,000 Mac Pro with the top of the line AMD FirePro D700, and it still doesn't match our recommended spec."
Well, last week they announced new minimum system requirements thanks to a technology called Asynchronous Spacewarp, which promises to double frames per second .
New minimum system requirements are as follow:
Nvidia 960 or greater (down from Nvidia GTX 970 / AMD 290 equivalent or greater)
Intel i3-6100 / AMD FX4350 or greater (down from Intel i5-4590 equivalent or greater)
8GB+ RAM (same)
If a $500 entry-level Windows-PC can handle this so could an iMac. Does this mean Oculus support for Mac will be finally resumed Oculus?
Via Polygon.
9
Don't have Tomb Raider yet? It's incredibly cheap on Feral's store right now
October 9, 2016
It's no surprise Tomb Raider is one of my favorite adventure games on Mac. While we still pray that Rise of the Tomb Raider will someday come to the Mac, you can grab this excellent game for $4.99. You read that right.
Head over to Feral's Store to grab your Mac (or Linux) copy. You have until October 13.
Via GamingOnLinux.
October 5, 2016
Another rumor is finally confirmed. Mad Max is officially coming to Mac on October 20, 2016.
The confirmation comes straight from Feral Interactive, the studio in charge of Mad Max for Mac and Linux.
Mad Max is an action-adventure game based on the Mad Max films and comes from the creators of the Just Cause series. The game takes place in a post-apocalyptic wasteland and gives players control of Max Rockatansky as he seeks revenge on a gang of raiders.