Latest Mac gaming news
A deeper look into Metal 2: expect VR support, eGPU support and better graphics
Andrew Cunningham from ArsTechnica just published a very interesting article covering some of the most technical features of the new macOS High Sierra. It discusses several things and it goes into some quite technical details, but if you simply want to know more about what Metal 2, Apple's graphics API, has in stores, this is a great read.
First of all, to put things into perspective compared to other platforms:
While both macOS and iOS still nominally support open, third-party APIs like OpenGL and OpenCL, it's clear that the company sees Metal as the way forward for graphics and GPU compute on its platforms. Apple's OpenGL support in macOS and iOS hasn't changed at all in years, and there are absolutely no signs that Apple plans to support Vulkan (when asked, Apple wouldn't comment except to further praise Metal's capabilities).
Regarding the actual improvements for most users:
Metal 2 is a technology for developers, so a lot of its improvements will be of interest primarily to developers. For instance, there's now a GPU performance counter in Xcode's collection of Instruments, and Apple says the frame debugger can be anywhere from 10 to 100 times faster depending on what you're looking at.

But the API will enable some improvements for end users, too. People with newer GPUs should expect to benefit from some performance improvements, not just in games but in macOS itself; Apple says the entire WindowServer is now using Metal, which should improve the fluidity and consistency of transitions and animations within macOS.
But the biggest new features that made the most noise: VR and eGPU support:
Metal 2 is also the go-to API for supporting VR on macOS, something Apple is pushing in a big way with its newer iMacs and its native support for external Thunderbolt 3 GPU enclosures (with Metal 2, developers will also be able to distinguish between external and internal GPUs, both because Thunderbolt 3 is slower than an internal PCI Express interface and may need to be treated differently by some apps and because apps will need to be able to failover gracefully if an external GPU is removed).
One less fun information though, some will be left behind:
Apple says that every device that supports Metal should support at least some of Metal 2's new features, but the implication there is that some older GPUs won't be able to do everything the newer ones can do.
And finally, perhaps another clue pointing to Apple's masterplan to unify iOS and macOS?
Another key feature for Metal 2 is full cross-platform compatibility between macOS, iOS, and tvOS—games and apps made for one of the platforms should have access to all the same API features on all platforms.
A little technical but still full of interesting stuff even for more casual users and gamers. Can't wait to see what Metal 2 will truly be able to deliver when High Sierra is released.
Jun 18, 2017 - macgamerhq.com -

139
E3 2017 just wrapped up a few days ago, and while most think the show only covers consoles and Windows, this year was full of Mac (and Linux) games too.
As much as Sony and Microsoft want to convince us E3 is all about the hardware, E3 is, and will always be, about the games. And when it comes to games to be released on Mac, E3 2017 was the best one so far.
These 21 games were the most exciting games for Mac from E3 2017, confirming this year's top games keep getting better and better.
Jun 15, 2017 - macgamerhq.com -

41
We knew the new Hitman was coming to Mac. The leaks were there and Feral Interactive eventually acknowledge it.
We also knew Metal was, again, the reason why Linux users were playing it while we weren't.
That will all change soon as Feral just revealed Hitman's Mac version is coming on June 20.
This latest adventure, which promises to be one of the finest on Mac this year, puts you back in the shoes of Agent 47:
As Agent 47, perform contract hits on high-profile targets in exotic locations around the world. Infiltrate and explore intricately layered locations brimming with secrets, weapons, disguises and, of course, targets to eliminate.
Originally released in episodes (with seven in total), Mac gamers will get Hitman: The Complete First Season.
WWDC 2017: Everything a Mac gamer needs to know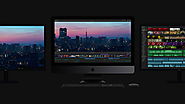 Apple's 2017 WWDC keynote was packet with game-changing news for Mac gamers. iOS 11 for iPad probably stole the show (I gave up on iPads a long time ago but iOS 11 may change my mind), but MacOS High Sierra promises to be full of amazing features.
These are the most important ones for Mac gaming:
Apple introduces Metal 2
Apple announced the next update for Metal, it's graphics API. Named Metal 2, it should be 10 times better at draw call throughput than the original and promises a faster frame rate debugger. This should all help Macs run games better.
But the real highlights are that it will allow Macs to finally support VR and eGPUs:
Metal 2 will also work with external graphics, making it possible to have external GPU boxes for Mac OS computers. Metal 2 will also help power virtual reality on Mac. The Unity and Unreal engines are coming to Mac, which studios can use to make VR games. Valve's SteamVR is also coming to High Sierra.
Macs will finally support VR
Indeed, Apple is making a big VR push and it managed to get all the big names on board: Valve, Unity and Unreal:
Leading VR companies are joining Apple to drive VR innovation on the Mac with features coming later this year — Valve is optimizing their SteamVR platform for macOS and enabling connection of the HTC Vive headset, while Unity and Epic are bringing their VR development tools to macOS.
For the longest time Macs were laughed at because they weren't powerful enough to support it. Oculus infamously dropped support for the Mac just before shipping last year, claiming Macs weren't capable enough.
Now Apple is working hard to change that and their VR push is quite frankly impressive. According to Apple, VR support is made possible thanks to better performance squeezed out of Metal 2, and above all, new Mac hardware. According to a blog post on Vive's official website:
Through a newly announced external GPU, developers and content creators will be able to use a beta of SteamVR and the new MacOS, High Sierra, to access the creative power of Vive with their MacBooks.
Which brings us to the new hardware.
The iMac Pro
We all knew something big was coming. Recently Apple admitted it made a mistake with the current Mac Pro and that it was working on an overhauled Mac Pro to set things right. They also claimed other products would help fill the gap soon. Enter the new iMac Pro.
The iMac Pro will look a lot like current 27-inch iMacs, but it will have crazy powerful specs for even the most demanding applications. The downside? It will have a crazy price too: $5000 for the base model.
Here are the specs:
27-inch 5K display with 500 nits brightness and P3 color
8-Core Intel Xeon CPU, configurable up to 18-Core
32GB of 2666MHz DDR4 ECC RAM, configurable up to 128GB
1TB PCIe SSD, configurable up to 4TB SSD
AMD Radeon Pro Vega 56 GPU with 8GB of HBM2, configurable to Vega 64, 16GB
Front 1080p FaceTime HD camera
Built-in stereo speakers, with 4 microphones, 3.5mm headphone jack
10GbE Ethernet
Four Thunderbolt 3 (USB-C) ports
Four USB 3.0 ports
802.11ac wireless with Bluetooth 4.2
SDXC card slot with UHS-II
To be fair, PC Gamer went ahead and built a similarly specced Windows machine to see how overpriced the new iMac Pro was. The result? The iMac Pro is not overpriced. In fact, it can be considered reasonably priced as their Windows build was $4686.71. That's only $313 less than a sleek machine made of premium materials with great warranty and customer service.
That said, their Windows machine is upgradable when the iMac Pro won't. I don't see myself spending $5000 on a machine that can't be upgraded and will therefore become obsolete sooner than later.
Support for external graphics cards
Luckily, Apple is offering another solution for gamers, VR enthusiasts and other users who may need powerful graphics: External Graphics cards. This is already possible on macOS Sierra, but it's not official and requires a lot of tinkering.
With macOS High Sierra, Apple will officially support eGPUs that will let you buy a powerful graphics card, put it in a dedicated case, and plug it to a thunderbolt 3 supported Mac (MacBook Pro or iMac) to give it enough power to run the latest games and VR apps.
Apple is already selling its own external graphics enclosure to developers:
The External Graphics Development Kit includes everything you need to start optimizing advanced VR and 3D apps on external graphics processors with macOS High Sierra.
Apple's External Graphics Development Kit comes with a Sonnet external GPU chassis with Thunderbolt 3 and 350W power supply, an AMD Radeon RX 580 8GB graphics card, a Belkin USB-C to 4-port USB-A hub, and a promo code for $100 towards the purchase of a HTC Vive VR headset.
Sadly, external GPU support likely won't arrive for consumers until spring 2018.
Latest iMacs have upgradable CPU and RAM
A teardown of the new 4K iMac reveals that the new machine is the most upgrade-friendly iMac Apple has released in years.
But before this gets you as excited as I was when I read the headlines, swapping out the components won't be easy. At all. The CPU is buried underneath a lot of other components, including a glued-down glass screen. I don't think Apple made this changes deliberately so we can all start upgrading our new iMacs, but at the end of the day, if you really want to upgrade your iMac's CPU, it won't next to impossible anymore.
Apple File System will make your computer faster
Apple went ahead and decided to completely replace the current file system which has been the standard for years. Not many companies would bother with changing a proven standard, but Apple did and the new file system should make your computer faster.
This won't have a huge impact on games, but a faster computer overall will certainly have indirect positive effects, such as improving load times.
Apple replaces the entire iMac, MacBook and MacBook Pro lineup
While new MacBook Pros got me really mad too (I purchased my 2016 MacBook Pro in November and the new 2017 MacBook Pros are faster and $200 cheaper), it's great for everyone else. The new iMacs and MacBook Pros have all Kaby Lake processors that should improve performance across the board.
Discrete AMD graphics cards are also coming to every 4K iMac, making them powerful enough for the HTC Vive VR headset. There's also additional Thunderbolt 3 ports.
The 4K 21-inch iMac and entry 13-inch MacBook Pro got a $200 price cut too.
And that's about it. Lot to cover, but that makes sense as 2017's WWDC was one of the most packed conferences in years.
Jun 09, 2017 - macgamerhq.com -

87
Right on the heels of Mafia 3, another AAA game hits MacOS.
Feral Interactive just released the real-time strategy game, Warhammer 4,000: Dawn of War 3. The game appeared for both Mac and Linux on Steam and the Feral Store yesterday, June 8, 2017.
These are excellent news. First, because it's the first Dawn of War game since 2009. Second, because the game is released on Mac less than two months later than the Windows version. Some games take years to come to the Mac. If they come at all…
6
1
1
1
1
1
1
1
1
1
1
1
1
0